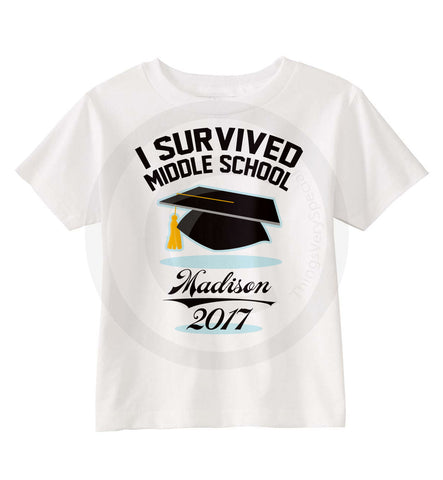 I survived Middle School Tee Shirt 05012017d
If your child has finished Middle school and is super proud, then this "I survived Middle School" shirt is a great gift for moving on to High School. It shows a mortar board and the year of their completing this portion of their schooling.
————————————
Youth tees are available in 
Small (6-8) (15.5" wide x 20.5" long)
Medium (10-12) (17" wide x 23" long)
Large (14-16) (18" wide x 25" long)
X Large (18-20) (20" wide x 27" long)
------------------------
Delivery Schedule:
From date of order...
US Orders - 
• Standard mail typically 3-8 business days.
• Priority mail typically 3-6 business days.
• Express mail typically 2-4 business days.
International Orders -
• First Class International mail is typically
  between 10-23 business days.
Business days are Monday through Friday.
---
We Also Recommend